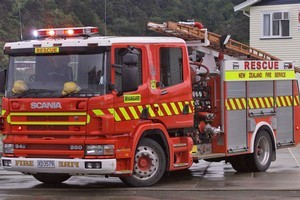 Firefighters ran out of water at least twice as they battled a blaze in a warehouse containing thousands of bales of lucerne at an animal food factory in Putaruru, north-west of Rotorua, today.
The firefighters arrived at Lucerne Products, near Putaruru, shortly after 9am and spent most of the day battling to stop the fire spreading from the burning lucerne to the rest of the production plant.
After emptying the plant's swimming pool and taking water from two tankers and eight fire trucks, firefighters ran out of water twice during the day, Rotorua Chief Fire Officer Graham Fuller said.
There was no reticulated water and running out was always a firefighter's nightmare, Mr Fuller said.
"In the initial stages part of the challenge was water supply to enable us to control the fire.
"We managed to cut the fire off and save most of the lucerne plant and the office but the lucerne storage shed and the bales of lucerne were destroyed," he said.
Firefighters realised when the alarm was first raised that it was at a remote location and sent water tankers to the scene.
The pool was rapidly emptied but when the tankers ran dry the fire had largely been brought under control, Mr Fuller said.
It appeared to be an accidental fire, caused by machinery failure.
"We are not treating it as suspicious and we are just having a look to firm up the actual cause of the fire."
No one was hurt but the storage warehouse was severely damaged.
Firefighters were expected to be dampening down for most of the night.
- NZPA