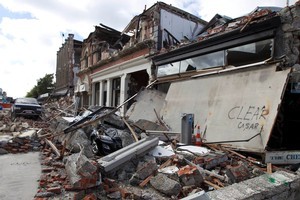 Earthquake offenders were "vultures feeding on the corpses of the dead" said Christchurch District Court Judge Raoul Neave today jailing a youth for 23 months.
"This is about as low as you can get in the city at the moment," he told 18-year-old Ata Taylor Mihaka. "Burglaries of this sort simply will not be tolerated."
Mihaka admitted breaching previous prison release conditions, failing to do a community work sentence, theft, burglary, attempted burglary, and being found unlawfully in a yard.
The court was told that the most serious offence was the burglary of a Halswell Road house which was unsafe because of earthquake damage.
Mihaka and a co-offender smashed a window to get in and took jewellery and other items. He returned later in the day, when the occupants were home.
Judge Neave noted Mihaka had committed the burglary while on bail, and had five burglaries on his record in the Youth Court and District Court. "If you keep on offending, what happens in the Youth Court comes back to bite you."
Defence counsel Kerry Cook acknowledged Mihaka did not have a good pre-sentence report, but said he had worked well in prison. He was now willing to attend a rehabilitation programme, whereas he had previously been smoking cannabis and drinking alcohol daily.
The judge imposed a series of cumulative prison sentences totalling 23 months, and ordered Mihaka to pay reparations of $150.
- NZPA