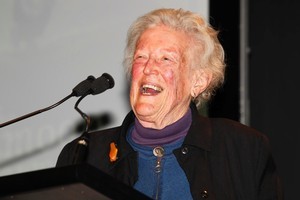 The writers of stories loved by children across the country were acknowledged for their latest productions last night.
The 15th New Zealand Post Children's Book Awards played host to some of New Zealand's most accomplished authors at the Auckland Convention Centre.
Well-loved veteran author Margaret Mahy won the supreme award, Children's Book of the Year, for The Moon and Farmer McPhee.
The judges said they were charmed by the tale of a grumpy farmer who was eventually won over by the moon and his animals, and learned how to be happy.
The panel said the book was an "absolute treasure" and that they were impressed by the poetry of the language and the "luminous" illustrations by David Elliot.
In her acceptance speech last night, Mahy said she was "absolutely astonished" at winning the award.
"The great charm about this award is that it gives emphasis and acknowledges how important picture books are in the lives of beginner readers."
The 75-year-old, who has received numerous awards, has become one of New Zealand's favourite authors and was rendered in a series of bronze busts that depict "The Twelve Local Heroes" in Christchurch's city centre.
The award's seven categories were judged by bookshop owner Ruth McIntyre, award-winning writer William Taylor and secondary school librarian Dee Brooker.
TVNZ presenter and news anchor Miriama Kamo hosted the event, which was also attended by Nikki Kaye, MP for Auckland Central, members of Parliament and the finalist authors and illustrators.
The country's children and teenagers had their say about their favourite book with voting cards distributed to schools, libraries and bookshops across the nation.
They voted Baa Baa Smart Sheep by Mark Sommerset and illustrated by Rowan Sommerset to be winner of the 2011 Children's Choice Award.
The category for first-time authors and emerging talent was won by Anna Gowan for Hollie Chips. The judges were enraptured by her her feisty hero, wicked villain, fast-paced plot and abundance of humour.
WINNERS
NON-FICTION
Zero Hour by Leon Davidson
BEST JUNIOR
Finnigan & the Pirates by Sherryl Jordan
YOUNG ADULT FICTION
Fierce September by Fleur Beale
PICTURE BOOK AWARD
The Moon and Farmer McPhee by Margaret Mahy and David Elliot
2011 CHILDREN'S CHOICE AWARD
Baa Baa Smart Sheep by Mark Sommerset, illustrated by Rowan Sommerset
CHILDREN'S BOOK OF THE YEAR
The Moon and Farmer McPhee by Margaret Mahy and David Elliot