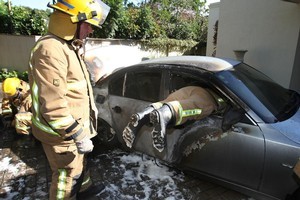 A Tauranga woman looked out the window when she heard her the alarm on her late-model BMW sound on Tuesday and saw her car on fire.
Tauranga firefighters responded to her 111 call and controlled the fire before it could spread into the woman's home about 5m away.
Neighbour Alice Campbell said she was surprised to see fire trucks arrive and looked down the driveway.
"I saw flames all over the ground," she said.
The woman did not want to be identified, but said she thanked God her children were not in the car.
Their skateboards and toys were destroyed in the fire, which mostly damaged the rear of the car.
Tauranga Fire Service senior station officer Mark Keller said the fire was difficult to extinguish.
"That model car has a plastic fuel tank, which had dropped its fuel all over the ground and the fuel was burning.
"If the ground had been running towards the house ... it's lucky the layout of the ground kept the fuel under the car."
Firefighters put out the fire, then checked the house and the car boot to ensure nothing was burning inside.
The fire was believed to have started after an electrical fault in the car's battery system caused the fuel tank to melt and ignite.
- APN