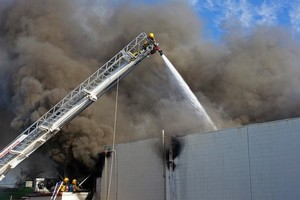 A large fire which destroyed a south Auckland factory last week was caused by an electrical malfunction, a fire investigator says.
The Best Food Tofu factory in Elliot St, Papakura, was last Thursday gutted by the blaze, which created a pillar of thick, black smoke 200m high, witnesses told NZPA.
Fire safety officer Ray Coleman said an investigation had established the fire was caused by an electrical malfunction, which ignited cardboard boxes in the ceiling.
Mr Coleman said sprinklers could have saved the factory, which was 90 per cent destroyed and probably a write-off.
"There were no sprinklers through the building. There was a heat detector. Sprinklers certainly would have helped save the day but, once again, it wasn't to be and in all probability the factory is probably totally lost."
- NZPA