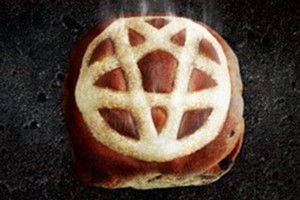 Hell Pizza has caused offence with one of its advertising campaigns again, but numerous complaints about a Hamilton billboard have not been upheld by the Advertising Standards Authority (ASA).
The billboard featured a bun decorated with an inverted pentacle symbol and the words: "For a limited time. A bit like Jesus."
The sign attracted 179 complaints that had similar messages such as, "nothing short of emotional and spiritual abuse", "grossly offensive", it was "discriminatory and insensitive" and the use of the symbol as well as the words were "blasphemous".
Another complainant said Christian faith was being "slandered and ridiculed" in a way that wouldn't be accepted if it were directed at other religions or minority groups.
Hell Pizza responded that they respectfully disagreed with the complainants.
"It appears from our review that the complaints themselves are for the most part confused, unreasonable, and even outright irrational."
The company suggested the complaints did not come from the general Christian community, but from "extreme elements within that community".
It denied targeting the Christian faith, "Hell believes that extremists of all religions and races are worthy of humour and satire".
St Matthews In The City lent its voice in support of Hell, saying: "We are just reminding people we shouldn't take ourselves so seriously about such things."
The ASA noted positive views expressed by the public including St Matthews In The City.
"...we can only conclude that the campaign was in fact within ASA guidelines as to acceptable humour and satire allowable within a tolerant and open society such as New Zealand."
In a majority decision, the ASA did not uphold the complaints.
Hell Pizza has previously courted controversy with their advertising campaigns.
In 2009 a billboard carried the catch phrase "at least our brownie won't eat your pet dog" -- a reference to Tongan Paea Taufa being found roasting a pitbull terrier-cross in an umu at his Mangere home.
The advertisement was the most complained about ad for that year, with the ASA upholding 62 complaints about it.
The "brownie" ad did not meet a due sense of social responsibility, was distasteful and reasonably likely to cause serious or widespread offence, the ASA said.
In late 2008, Hell began a "$25 Hot as Hell" direct mail ad, which promised a Thai massage with one of its pizzas, if the offer was redeemed in Thailand on the day of purchase.
The ad showed a photo of a young Thai woman in high heels and a bikini, which 16 complainants said invoked prostitution and was a racial slur to Thais.
Hell Pizza's 2006 "Lust Pizza" random mail out remained the most controversial ad in ASA history. It attracted a record 685 complaints after condoms were sent to random letterboxes.
The complaints were upheld.
- NZPA