Are you documenting the weather? Send us your photos, video
Email here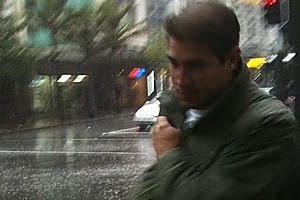 Most of the country is about to get a heavy spanking by nasty weather settling in until Wednesday, forecasters predict.
Heavy rain, thunderstorms, gales and snow are forecast to make the next few days miserable for just about everybody, the MetService has warned.
Residents on Waikato's west coast are being urged to exercise extreme caution as heavy swells are set to pound the shores for the next three days, Waikato Regional Council duty emergency management officer Sarah Basheer said.
It was predicted there could be four-metre swells today, five-metre swells tomorrow, and up to six-metre swells on Tuesday and Wednesday.
Swells and high winds can mean strong currents and sea surges, while the predicted swells are due to coincide with a full moon and king tides, increasing the potential for inundation of coastal areas, Ms Basheer said.
"People should exercise extreme caution in, on or near the water. We recommend that people avoid taking risks as the conditions mean situations could turn nasty very quickly."
The MetService has issued a severe thunderstorm watch until 7pm for the top half of the North Island, from Northland to Taranaki.
Several fronts are moving northeast across the North Island with thunderstorms developing on the fronts. Some of these may be severe and produce wind gusts of 120km/h this afternoon and early evening, MetService forecaster Allister Gorman said.
There was also the possibility that a few tornadoes may spawn from these thunderstorms, especially near the coast.
Wind gusts of this strength can cause some structural damage, including trees and power lines, and may make driving hazardous. If any tornadoes occur, they will only affect very localised areas, Mr Gorman said.
The rest of the North Island as well as Marlborough, Nelson and Buller should also prepare for thunderstorms until tomorrow night.
Strong westerly gales were expected to develop about Hawke's Bay south of Hastings down to northern Wairarapa, including the Tararua District this evening and were likely to continue on and off through to Tuesday, with gusts of 120km/h or possibly more in exposed places, Mr Gorman said.
Another front will cross southern and western parts of the South Island this afternoon and evening, which will be followed by westerly gales and heavy squally showers with snow lowering to 300 metres in the south.
Severe gale gusts of 120km/h were likely in coastal parts of Southland and Otago as far north as the Otago Peninsula and again may continue on and off through to Tuesday.
Snowfalls in eastern Southland, Clutha and the Catlins would be accompanied by strong to gale winds and farmers were advised to shelter any vulnerable livestock.
Meanwhile, the sun has emerged to dry out a sodden Wellington region after thunderstorms, hail and gales kept emergency services frantic with dozens of callouts this morning.
Police were called to 68 weather-related incidents today, including flooding, over-flowing potholes, slips, road closures, stuck vehicles and one vehicle collision, Senior Sergeant Marty Edghill told NZPA.
Most callouts for emergency services were for localised flooding, he said.
Fire Service shift commander Mike Wanoa said there was surface flooding in Lower Hutt, the Wellington business district and the eastern suburbs, with alarms also being triggered.
State Highway 2 at Melling was closed because of a slip.
A mini tornado in Nelson has been blamed for a trampoline being thrown onto the top of a power pole across the street from a family's home in Walters Bluff.
It was also believed to have caused a trail of damage to a group of trees at the Wakapuaka Cemetery, when it hit about 2.45am, The Nelson Mail reported.
- NZPA