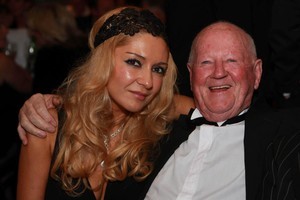 He's perhaps the country's most flamboyant chief executive, with a salary of $5.6 million, a rented clifftop mansion worth $7.1m, and notorious for whipping off his shirt on the dancefloor to reveal his company logo emblazoned across his chest.
But Westpac chief executive George Frazis is being hauled before the Tenancy Tribunal, accused of breaking a lease agreement and skipping out on $134,000 rent.
The Tenancy Tribunal usually deals with cases that are - quite literally - low-rent. But this is a tribunal case like no other.
Frazis and elderly property tycoon James Kirkpatrick - two of the country's most powerful businessmen - are doing battle over rent allegedly owed on the 1417sq m Paritai Drive property where Frazis lived with his wife and children.
Paritai Drive, the country's most expensive street, runs along the top of a cliff overlooking Waitemata Harbour.
Australian-born Frazis, aged 46, made headlines last year with his $5.59m salary package. Then, at the bank's Christmas party in downtown Auckland, he reportedly pulled off his shirt to reveal a Superman-style red "W" painted on his chest.
Kirkpatrick, aged 80, lives on Paritai Drive with his wife, glamorous socialite Gilda Kirkpatrick.
He also owns the four-bedroom mansion next door at No 92, rented to Frazis for $3400 a week.
The neighbours' relationship soured when Frazis announced he was terminating the two-year fixed-term lease almost 13 months early.
In a letter to Kirkpatrick, dated November 10, 2010, bank general counsel Mariette van Ryn advised that the Frazis family was returning home to Sydney and would be moving out on December 28.
Kirkpatrick at first insisted on rent being paid through to April this year - until he discovered, according to a subsequent letter, that Frazis himself would continue to work for Westpac in Auckland, commuting from Sydney.
Kirkpatrick filed a claim with the Tenancy Tribunal saying Frazis had abandoned the property and was required to pay the outstanding rent of $134,057, through to January 2012.
Frazis denied the claim, and his lawyers advised the tribunal that Kirkpatrick could see that Frazis' personal belongings remained in the house; that only Frazis' wife and children had returned to Sydney.
Sources told the Herald on Sunday that George and Amanda Frazis had separated.
Frazis claimed others wanted to rent the house after him, one a diplomat and the other a chief executive offering to pay $2500 and $3000 per week respectively, but Kirkpatrick rejected them as tenants.
Kirkpatrick has now put the house on the market with Bayleys Real Estate.
"We've had interested parties but nothing solid," he said this week.
Frazis said: "This is a private dispute and the correct process is being followed."