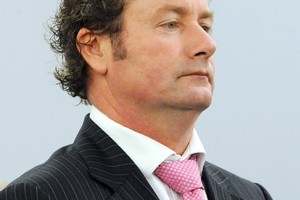 Top bowler Gary Lawson had assault and wilful damage charges against him dismissed when he appeared in Wellington District Court today.
A former taxi driver, Nashwan Gorges, alleged Lawson, 45, had attempted to kick him after verbally abusing him with swearing and racial slurs, after he picked up an intoxicated Lawson and another man for a fare in November last year.
One of the men had kicked the taxi's wing mirror during the altercation which happened about 4am at the BP station in Taranaki St, Wellington, and Lawson was also charged with wilful damage.
Lawson and his friend then ran off. Mr Gorges followed Lawson, grabbed him and restrained him, with the support of another taxi driver who saw the altercation and called police.
After contradictory evidence from the prosecution's witnesses today, including both taxi drivers and the police officer who arrested Lawson, defence lawyer John Tannahill applied to have the charges dismissed.
Judge Chris Tuohy said from the evidence heard there was "no doubt the defendant was aggressive and abusive".
However, Lawson did not have a case to answer as a jury or judge could not find him guilty of either the assault or wilful damage charge.
Speaking outside the court, Lawson said he was always confident a "good result would come out of it".
"I never assaulted him. I never tried to assault him."
It had been a difficult six months since he was arrested, Lawson said.
"It's been pretty stressful and at the end of the day I think that everyone that was in court realised that the wrong person may have been charged with assault. In saying that I'm just happy it's all over and done with."
Lawson also disputed the taxi driver's allegations he was verbally abusive with racial slurs, implying it was his companion who had been responsible.
"It wasn't me who was abusing him."
- NZPA