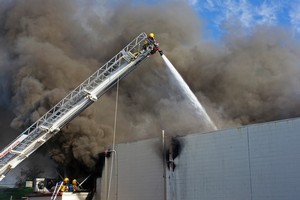 Fire crews have put out a "huge" blaze that destroyed a tofu factory in the south Auckland suburb of Papakura.
The fire broke out at a large Asian food outlet at 22 Elliot St before 1.15pm, sending billowing clouds of black smoke across the area for an hour-and-a-half.
Fire Service northern communications spokesman Scott Osmond said 20 fire crews - or about 80 firefighters - had now contained the blaze.
One person from the area had received medical treatment for smoke inhalation, but no-one was seriously injured, he said.
However, the entire factory had been gutted.
Papakura Lawnmowers worker Ross Wards said the fire had been "huge" when it broke out.
A Caltex worker on Elliot St said there was large amount of heavy smoke had filled the air and dozens of people crowded in the street.
Josh Kimberly, a funeral director at nearby Fountains Funeral Directors, said staff had been wearing masks used for embalming bodies because toxic-smelling smoke was wafting into the business.
"It's a pretty intense sight. We can't see any fire but the smoke is horrendously thick, it's like a blanket that's going straight up into the air. It's the sort of smoke you can almost taste," he said.
There were no ambulances at the scene and Mr Kimberly understood everyone had got out of the building.
Some nearby businesses had been evacuated.
Local business owner Alan Smith said the building used to be a pork factory so would have had lots of polystyrene insulation from the chiller units, which was probably causing the toxic smoke.
- Herald Online staff, NZPA