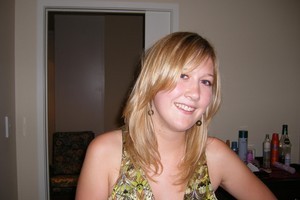 An insecticide implicated in the death of a a Kiwi tourist who died suddenly in Thailand is being used in New Zealand and could be harming workers, the Green Party claims.
Sarah Carter, 23, fell violently ill on February 3 while staying at the Downtown Inn in Chiang Mai and died a day later.
Her two friends and travelling companions, Emma Langlands and Amanda Eliason, also fell ill but later recovered.
An investigation aired by TV3's 60 Minutes this week showed trace elements of the chemical chlorpyrifos, used to kill bed bugs, were found in the hotel room Ms Carter was staying in.
United Nations scientist Ron McDowall, who carried out tests on behalf of TV3, said the symptoms suffered by Ms Carter and the other tourists who died suggested they were killed by over exposure to the chemical.
Green Party toxics spokesperson Catherine Delahunty said despite that, chlorpyrifos was being used on fruit farms and in industrial settings in New Zealand.
A kiwifruit worker was hospitalised in 2008 after being accidentally sprayed with Lorsban, in which the active ingredient is chlorpyrifos, she said.
She called on Government to consider banning the chemical - in line with European countries.
"It is very worrying that this highly toxic chemical is still being used in New Zealand.
"Now it has been implicated in the deaths of tourists in Thailand, we must look more closely at its use here in New Zealand. Other countries have banned its use, particularly in homes and gardens.
"If it is dangerous in our homes, it's also dangerous to use in growing our food, and in the workplace."
ERMA guidelines show chlorpyrifos is acutely toxic to humans, very toxic in aquatic environments and toxic in soils.
Ms Delahunty said keeping it in use in New Zealand compromised the countrys' 'clean, green' brand.
"Our livelihoods depend on our clean, green brand. We cannot afford to sacrifice our environment and our people for the sake of saving a few bucks by using an acutely toxic insecticide.

"We want safe, healthy food for everyone. We don't want to wait for someone to die before we stop using acutely toxic chemicals."
Sarah Carter's father, Richard, said TV3 had presented a strong case chlorpyrifos had caused his daughter's death.
The 60 Minutes investigation showed teams of Thai workers intensely cleaning rooms on the fifth floor of hotel, where Ms Carter and her friends became ill.
Mr Carter believed this was an attempt by the Thai authorities to get rid of evidence on her death in order to minimise damage to the country's lucrative tourism industry.
"I think they've proven that they really don't have an interest in resolving the issue, calling it a coincidence for a start, and also to have systematically gone around and covered up as much of the evidence as they possibly could when they had wind that TV3 were about to do an investigation.
"There have been quite a number of incidents where the reaction from the Thai authorities is to cover things up to save their own tourism industry, without taking the long-term view of resolving these problems and making the country safer for all visitors, as well as their own people."
Mr Carter said he had been assured by a senior Thai health department official that there would be further investigation.
- NZ Herald staff