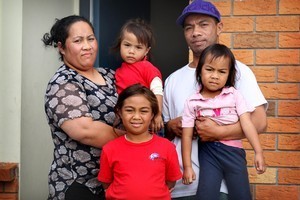 The Tomasi family used to live in an overcrowded two-bedroom house. Photo / Natalie Slade
The Tomasi family of seven have been spared from squeezing into two bedrooms at night, under a healthy-housing scheme proven in a landmark study to reduce the number of children admitted to hospital.
The study, by Auckland public health specialist Dr Gary Jackson and colleagues, is considered a strong endorsement of the decade-old scheme to improve the health and wellbeing of people in some of the poorest suburbs and towns.
Infectious diseases physician Professor Diana Lennon said it was a landmark.
"The yearly tsunami of acute hospitalisations, mostly infectious diseases, is preventable and potentially hugely cost-saving. The usual winter increment of staff in children's hospitals is preventable."
The study, published in a British journal, is the first to show housing intervention can improve health to the extent of reducing acute hospital admissions.
State tenant Misinale Tomasi, his wife Penisi, and their five children were moved from their run-down, cockroach-infested house in Otara, to a larger, newer, brighter, warmer home in Chapel Downs in 2009. They love it.
"I think it's way better," said Mr Tomasi, 38, an assistant supervisor at a soft-drink bottling plant.
He said the main benefit was that their children - boys aged 9 and 11, and girls aged 2, 4 and 7 - were healthier.
"It was too crowded. I think the kids, they were sick every week because there were too many people in one bedroom." Mr Tomasi slept in one bedroom with the boys, and Mrs Tomasi in the other with the girls.
In their semi-detached, four-bedroom house in Chapel Downs, the parents have a room to themselves.
The Healthy Housing Programme, involving Housing New Zealand and several district health boards, has helped more than 9000 households living in state houses in poor areas of Auckland, Northland and Wellington.
Housing NZ spent $126 million on the scheme between 2001 and last year. It grew out of research that linked the meningococcal epidemic to overcrowded housing.
Families are put in touch with primary health care and social services and many have had improvements made to their home's ventilation, insulation or heating.
Some 1300 families have had overcrowding fixed by measures such as a having a room added, being shifted to a bigger state house, or being assisted into larger private accommodation.
Participants have reported improved self-esteem, increased school attendance and reduced hospital visits.