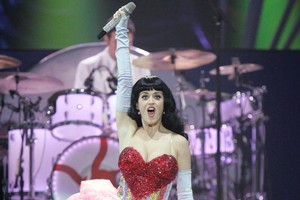 She might be used to the A-list treatment, but superstar singer Katy Perry was turned away from top Auckland restaurant Euro on Friday night.
A manager at the waterfront eatery co-owned by MasterChef judge Simon Gault said Perry and her entourage tried to book a table but they were full and unable to fit her in.
"We didn't have room for her, unfortunately."
Gault said last night he had just returned from Australia and was unaware Perry had tried to book a table.
Euro's stance was in marked contrast to when rapper Jay Z and wife Beyonce turned up to Soul Bar during his New Zealand tour last year.
Diners - including winemaker Kim Crawford - were asked to leave the top deck to accommodate them.
Perry performed the first of two concerts at the Vector Arena last night in the latest leg of her worldwide California Dreams Tour.
Her final New Zealand show is in Wellington on Tuesday.
The American singer, who is married to Russell Brand, disappointed waiting fans when she arrived at Auckland airport on Friday evening.
Arriving from Australia, the I Kissed a Girl singer left through a side exit with a pillow over her face.
Yesterday she stayed in her penthouse at the five-star SkyCity Grand hotel for most of the day, leaving only to perform a soundcheck.
Celebrity nail artist Leah Light tweeted that she was in Perry's dressing room to do her nails before the show.
Hundreds of excited fans camped outside Vector Arena from dawn hoping to secure a spot close to the stage.
Student Charles Cammock, 18, drove up from Hamilton with a friend on Friday and they spent the night in the car so they could get to the venue by 8am.
Even then they weren't first in line. "There have been people here since 5am, so we're all pretty committed."
Five New Plymouth schoolfriends also queued early - wearing matching outfits with Perry's name on the front.