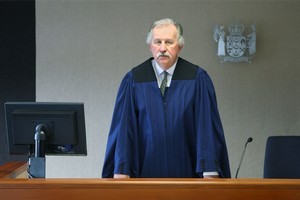 New Zealand needs stronger measures to prevent the "tragic and unnecessary" deaths of up to 60 infants a year due to them sleeping with their parents, a coroner says.
Rotorua Coroner Wallace Bain today released the findings into the deaths of four babies who died because of unsafe sleeping practices and called for more explicit and graphic warnings for parents.
"With variations, the same or similar type fact situations are arising time and time again, and mothers and families are simply not getting the message," he said.
"Although loving their babies dearly and thinking they are doing the very best for them, they are in fact unwittingly 'killing' them.
"This is a very, very sad state of affairs and it seems to me, can only be rectified by education and on the ground assistance for mothers."
He said the parents' sleeping with their babies was a type of child abuse.
One of the four infants, a six-week-old baby, identified in the report as Baby I, died in May 2010 after she was put to bed with two of her siblings.
The baby died due to accidental asphyxia and was found lying on her cheek.
Baby I would usually sleep with her mother, who described the sleeping arrangements as common practice, Dr Bain said.
The three other babies, identified as Baby H, Baby F, and Baby G, died after sharing a bed with a sleeping parent.
"Babies in this country are dying unnecessarily," Dr Bain said.
"The vast majority are Maori and Pacific Island babies. That is an indictment on our society and needs to be corrected urgently. This country needs to get serious about this dreadful blot on its character."
Alarmingly, parents were getting mixed messages as some midwives and mothers backed the practice, Dr Bain said.
"It simply sends the wrong message to parents and quite frankly seems to me to be part of the problem."
Dr Bain said evidence showed an arm or hand draped across a baby during sleep was sufficient to cause death. Rolling against a baby, a baby moving in its sleep and pushing against an adult was also sufficient.
"So a parent doesn't actually have to have roll on the infant and may indeed simply have pushed against the baby as it moved in its sleep to cause a death."
He said the Ministry of Education needed to graphically explain to parents the various ways babies could die from unsafe sleeping arrangements, and set out guidelines.
Parents should be taught that bed-sharing with babies under six months could cause death, and the safest way for them to sleep was in a cot beside the bed.
Steps should be taken to ensure the same advice was given to public professionals and educators, Dr Bain said.
- NZPA