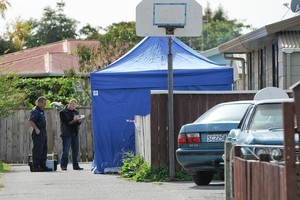 A six-month-old baby Ngaruawahia girl died from traumatic brain injury suffered in what police describe as a "very violent" incident, post mortem results reveal.
Serenity-Jay Scott-Dinnington died in Starship hospital on Thursday after her life support was switched off.
She had been admitted to the paediatric intensive care unit on Tuesday night after suffering injuries that police say were non-accidental.
Detective Senior Sergeant Mark Greene said the results showed the horrific injuries inflicted on Serenity.
"I would stress at this stage that the post mortem results are only provisional, but they give us some idea as to what sort of injuries she suffered during what was obviously a very violent death."
Serenity had been living with her mother, Chelsea Scott, 21, at a Ngaruawahia house. Miss Scott's brother Drew, 17, and fiance Mathew Ellery, 21, also lived at the house.
It is understood the two men were interviewed by police shortly after Serenity was taken to hospital. No arrests have yet been made and police investigating her death hope to have the post-mortem results today.
Mr Greene said the general response to the police investigation had been good, but he was still keen to get more information about how Serenity died.
"An innocent, 6-month-old baby is dead. She has died at the hands of another and it is everyone's responsibility to ensure that someone is held accountable for her death," .
Anyone with information about Serenity's death can ring 0800 YOUR HELP (0800 9687 4357).
- NZ Herald staff