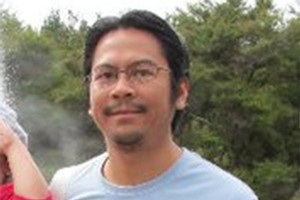 Benedict Dacayan's family say he was a good man and great father to his two children.
Benedict Dacayan recently celebrated his 37th birthday at home with his family. Yesterday, his family gathered again - but this time they were waiting for his body to be brought home.
Mr Dacayan, from the Philippines, worked for Fletcher Construction and was part of a construction team that was demolishing the old PlaceMakers building in Albany when the 200km/h tornado ripped through the suburb.
The father of two was working in a site office, which was picked up in the tornado and thrown across a carpark. Mr Dacayan was slammed on to the concrete and - despite the efforts of a student nurse and other bystanders - he died at the scene.
Two of his workmates, one a site superintendent, were seriously hurt.
Mr Dacayan's death has been referred to the coroner. He was the only person to die in Tuesday's tornado, though 14 people, including 5-month-old Alicia Cates, were injured.
His wife, Jeanette, with whom he has a young son and daughter, was too distraught to speak to media yesterday.
A relative at the couple's home was teary as she spoke of Mrs Dacayan's heartache over her husband's death.
"She is very, very upset. She is very, very angry," the relative said.
"She is just praying today."
Mrs Dacayan spoke of her love for her husband on his March 3 birthday, writing on her Facebook page that she loved him "dearly" and he "makes my life so meaningful and joyful".
Mr Dacayan's brother-in-law, Serafin Pabriaga, said he was a great man and a great father and his family were struggling to cope with what had happened. "It's pretty sudden. We all loved him, so that's why we are in shock," he told One News.
"Thank you all for your concerns, but most of all, we need your prayers."
Fletcher Building spokesman Philip King said staff were shocked at Mr Dacayan's death. "It was a very random act of mother nature."
He said the site office Mr Dacayan was in was "comprehensively lifted up and destroyed by the tornado".
Mr King said his company had procedures, including a welfare fund, to help the dead man's family.
The Philippines Consulate is supporting the Dacayan family.