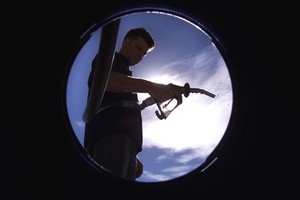 Petrol has hit a new high price mark, a move that the Automobile Association is condemning as unjustified.
The four main suppliers have lifted their prices by 3c - to $2.22 a litre for 91-octane fuel - leaving only industry minnow Gull holding out for now.
Diesel remains unchanged at $1.64 at most city pumps.
That follows about six weeks in which prices stayed at the same level as the previous record of $2.19 - reached in 2008 after hurricane damage to United States oil fields.
AA spokesman Mark Stockdale said yesterday his organisation did not consider the latest rise was justified, as it believed increases in New Zealand's exchange rate with the US currency of oil traders had been high enough to offset surging commodity prices.
It had received a number of calls from members upset about the rise.
Mr Stockdale said the currency had risen by 8c in the past two weeks, compared with an increase of US$8 ($10.07) in the barrel price of oil since petrol last went up on March 21.
"We would have expected the oil companies to have exercised restraint," he said.
"The oil companies are not hurting at the moment and, based on the normal range of movements, we think they can afford to absorb their latest [cost] increase in light of exchange rate rises."
That was disputed by BP spokeswoman Diana Papadopoulos, who said the cost of refined petrol had risen by 14 per cent since the last retail price increase, compared with a 10 per cent lift in the exchange rate.
She said the net difference worked out at 3.6c a litre.
Chevron spokeswoman Sharon Buckland, representing the Caltex brand, said a weakening of the US dollar had prompted many currency traders to move into the oil futures market - fuelling demand.
She added that there was now 10c a litre more in tax since 2008.
Although Mr Stockdale believed the effect on commodity prices of political turmoil in the Middle East had eased in recent weeks, Greenstone Energy spokeswoman Sheena Thomas said on behalf of Shell that there were several other factors, including an increase in taxes on Russian fuel exports.
That and shutdown programmes at several refineries had squeezed supply.
Ms Buckland said that despite the record petrol pump prices, and reports of over-loading on some bus and train routes, she did not believe there was any less traffic on the roads.
But Gull general manager Dave Bodger, who saw no need to raise his prices yesterday, said traffic volumes across the Auckland Harbour Bridge had reduced.
He said Transport Agency statistics showed that only 1,099,000 vehicles crossed the bridge in the first week of March, compared with a weekly average of 1,166,000 in March last year and 1,132,000 for the same month in 2009.