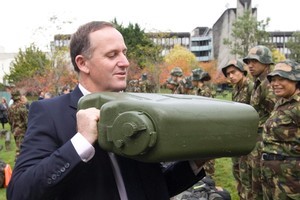 The Government has beefed up funding for youth training but dumped its nearly $30 million-a-year Community Max scheme.
In a pre-Budget announcement yesterday, Prime Minister John Key said $55.2 million would be made available over four years to get young people into jobs. The money comes from the Ministry of Social Development's budget.
The new package will provide subsidies for employers who agree to train a young person and give them a permanent job, as well as more money for military courses. About 18,400 young people are on unemployment benefits.
The Community Max scheme, which cost about $57 million over two years, was criticised for creating projects that did not appear to have strong outcomes, such as training horses that were later freed, but the Government defended them, saying those who participated learned new skills.
"We think for the most part it was very successful, but it was always meant to be temporary in nature," Mr Key said.
The new package was better for the longer term given the Government bore the full wage bill for Community Max.
"It's much cheaper to administer, it engages [youth] actually in the real world where they can ultimately hopefully have a long-term career, but also gives them skills that we think we need."
Social Development Minister Paula Bennett said the package was made up of Skills for Growth, Job Ops with Training, and the Limited Service Volunteer programme. Under Skills for Growth, employers will get a subsidy to employ and train young people in high-demand industries such as aged care, horticulture and agriculture.
Around 1000 people a year will be able to get industry-specific qualifications through the programme, which will cost $17.2 million over four years.
Employers will get a $5000 subsidy for training and in-work support to help the young person achieve a recognised industry qualification.
Job Ops with Training is an extension of an existing programme and will include training in the subsidy for employers, costing $13 million this year and next. Employers will get a $5000 subsidy for wages and training.
The scheme will be limited to young people who have been on the unemployment benefit at least three months.
The money for Skills for Growth and Jobs Ops with Training will come from other employment assistance programmes in Work and Income.
Ms Bennett said $25 million for Limited Service Volunteer courses was new, but it was later confirmed it would come from her ministry's existing budget. The six-week course is run by the Defence Force.
- NZPA