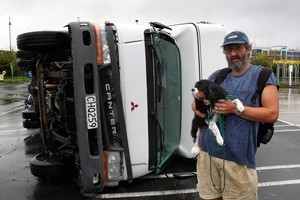 When tourists Robert and Linda Ahbel realised their campervan had been thrown 100m across the carpark during yesterday's tornado their only concern was for their treasured dog, Louie, inside.
The Americans, who sailed to New Zealand in November and are now touring the country, were at the Westfield shopping centre in Albany renewing the registration on their campervan when the tornado struck.
"It just sucked up everything, we were just going 'holy mackerel' - sheet metal was flying.
"We could see this churn of sheet metal, carts - all the bits. First we thought, 'wow, there is a lot of litter' but then we realised it was pieces of the building."
Once the worst had passed the shaken couple ventured outside to the Pak'nSave carpark to find their campervan had been picked up and thrown across the lot and was lying damaged on its side about 100m away.
Despite having many of their possessions inside, their first and only thought was for Louie, a Cavalier King Charles spaniel which cost nearly $10,000 to bring into New Zealand and is a beloved part of the family.
"We have sailed around the world twice and this is like the worst-case scenario - we are there and puppy went that way somewhere."
The couple ran across the carpark to the campervan and Mr Ahbel climbed inside.
"I went in through a broken back window to get Louie and there was just broken glass, everything was broken."
Louie was lying among a pile of clothing. Despite still shaking several hours after his ordeal and suffering a bloodshot eye the dog appeared to have escaped relatively unharmed.
The couple's possessions were not so lucky and their travelling plans were on a temporary hold last night as they tried to find temporary accommodation and a vehicle.