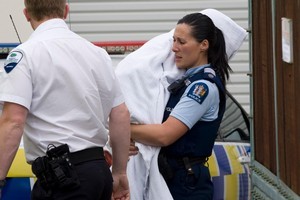 A 9-year-old girl who spent a night up a tree after going missing near her Wainuiomata home had two words to say to her frantic parents when she was found yesterday: "I'm sorry".
Veetia Rose Vaculik-Hamilton spent a night up a tree after she became lost on Sunday afternoon.
She left her Hampstead St home about 2pm to play at Arakura School, about 300m away.
When she did not return home for dinner, her parents called police and a search was launched.
Veetia was found up a tree on Mohaka St, about 3km from her home, by builders who heard her yelling at about 11.40am yesterday.
"I think what's happened ... is she's got herself lost and has headed to what she thought was a safe place, which was a tree, which is where we found her," said Detective Sergeant Paul Borrell.
Veetia's father, George Vaculik-Hamilton, said he was at the Wainuiomata police station when he heard the news his daughter had been found.
"I was relieved. I'm still shell-shocked about it all, but we're happy," he told the Herald.
"She came in and there was a lot of cuddles and reassuring, but we've told her that we're going to have a talk when she comes home. She said she was sorry."
Veetia spent last night in hospital. She was not injured but Mr Vaculik-Hamilton said she was admitted for observation.
He said Veetia did not come home because she was unhappy about being disciplined.
"She wasn't happy with the punishment she had been given and the restrictions put on her."
Mr Borrell said police were "extremely relieved" to have found Veetia safe and well.