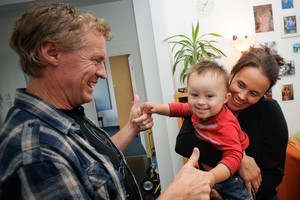 When a motorist opened a car door on Kiwi popstar Don McGlashan, his plans for a charity music performance seemed to have been knocked flying.
He suffered broken ribs, a broken collarbone and punctured lung and was in hospital for a week.
But nothing can keep McGlashan down - especially when he has a chance to use his voice for kids.
And this week, he will join forces with music greats such as Tim Finn, Anika Moa and Hinewehi Mohi in a fundraising gala dinner for the Raukatauri Music Therapy Centre.
"I'm off the industrial-strength painkillers now," McGlashan laughs.
Raukatauri uses music to help school-aged kids with special needs, such as Cody Paraone who has Down syndrome. McGlashan says it is inspiring to see how instruments such as the drums and piano can help children like Cody, who turns 3 today.
Tickets for the Langham dinner on Thursday are $250, plus GST. To attend call Justine McKay on (09) 480 3915; email justine@janda.co.nz