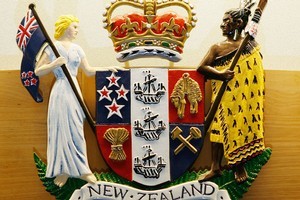 The man charged with operating a vessel in an unsafe manner while protesting deep sea oil rigging exploration off the East Cape of the North Island now faces a charge of resisting arrest.
The charge was laid when Elvis Teddy appeared in Tauranga District Court this morning.
Teddy entered no plea on either charge and was remanded at large for two weeks to allow him time to seek appropriate legal advice.
He was the skipper of the Tauranga based boat, San Pietro, which has been part of a flotilla protesting against the exploration programme of Brazilian oil giant Petrobras.
On Saturday, Teddy was arrested for his part and actions in the protest as skipper of the boat.
About 100 supporters gathered at Tauranga District Court this morning.
Controversial MP Hone Harawira and Bay of Plenty rugby player Matua Parkinson were among the crowd.
Many supporters held signs and banners opposing deep sea oil exploration.
A street protest in Tauranga is planned for this afternoon.
- NZPA