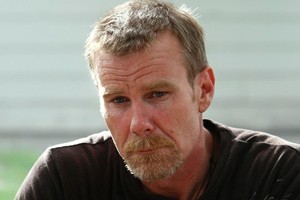 Police yesterday revealed that they have video scans of inside the Pike River mine which show what appears to be a fully clothed body.
It was feared that all 29 workers had been incinerated by the blasts or fire in the mine after a series of explosions.
Police say a forensic pathologist's view is that an object captured in footage taken down a borehole in February looked like a fully clothed body lying face down in the mine.
But Assistant Commissioner Grant Nicholls said: "It is important to note that the images we currently have are not that clear. More refinement and interpretation of what currently appears to be a body is needed."
Footage also revealed that an equipment box containing firefighting equipment had been opened in the mine, raising the prospect that one or more workers survived the initial blast.
Dean Dunbar has always believed his son's body lies intact in the Pike River mine, and one day he will lay him to rest at a funeral.
Mr Dunbar hopes others will now believe it too. Joseph Dunbar, 17, was the youngest of 29 workers killed in the mine last November.
"It's news that almost takes you back before the first explosion," Mr Dunbar told the Herald.
"Hopefully it will confirm to the rest of New Zealand ... that these bodies are lying in there. My son's lying in there, and I want him out.
"If this pushes the recovery forward, then hallelujah, mate. Anything to speed this nightmare up is what every family member wants, I'm sure."
Mr Dunbar said the footage only added to his view that rescuers should have gone in soon after the first blast.
But Jo Palmer, whose brother Brendon died in the mine, said her partner was a miner and had told her that such boxes were often opened in non-emergencies, and could be left open.
Pike River Coal chief executive Peter Whittall told the Herald he had viewed the image thought to be a body which seemed to show "a guy in overalls, lying maybe in a fetal position or something like that. You can make out some boots and knees and elbows."
Mr Whittall said the footage simply backed up his long-held view that some or all of bodies of the 29 victims could still be intact in the mine, depending on where they were.
They could have died as the result of shockwaves or gas, he said.
"It's difficult for all of us to see the image of the body. While the finding of the body is an important piece of information ... it doesn't change anything.
"It's interesting, but not material to our current activities, or the activities we did at the time [of the explosions]."
Any body recovery attempt still depended on safety and getting the go-ahead from mine rescue experts.
Nothing could be drawn from the fact that the equipment box was opened in the mine, because it could have been opened at any time, Mr Whittall said.
"Whether it was opened after the explosion or before the explosion, we have no idea one way or another."