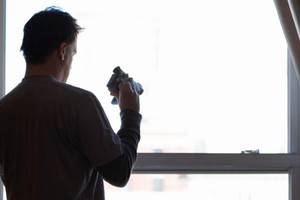 A homeowner started filming his neighbours because of a noise dispute involving allegations of intimidation and police complaints.
Biju Joseph claimed he and his family were often kept awake by the tenants next door and wanted Auckland Council to do more to shut them up.
But the tenants said Joseph complained too easily and the situation had spiralled into a "neighbours at war" scenario.
Council compliance manager Carole Todd said there had been 32 complaints about the tenants' flat in the past year and six had been upheld.
Joseph maintained eight had been upheld and many of the complaints were made on one night.
He said the problems began in June last year when his neighbours moved in next door to the Mt Albert house he shared with his wife, 3-year-old son and elderly parents.
Joseph said most weekends they made noise from 7-8pm to the early hours and were aggressive towards him.
"They always make noise and have parties happening next door," he said.
Account manager Phillip Haaker lives next door with three flatmates aged 19 to 25.
"We have people over in the weekend - we always take bets that noise control will be round by 8pm.
"It's getting ridiculous. We're at the point now where we know the noise-control guy on a first-name basis."
He claimed that a few weeks ago Joseph arranged for a group of men to "intimidate" his house into quietening down and said he complained about the incident to police.
Joseph denied the allegation, saying he arranged for friends to help mediate with the flatmates.
And he said he made his own police complaint, after his car was scratched.
Haaker conceded the flat had been too noisy on occasions but said the issue had spiralled into a "neighbours at war" situation.
Haaker said Joseph filmed the flat from inside his house and called the council about trivial matters such as outdoor lights being left on.
Joseph said he complained about the lights because the neighbours left them on to annoy him and he was filming to gather evidence on advice from Neighbourhood Watch.
Haaker's landlord and other neighbours were aware of the spat. Landlord Carolyn Jones said she was sick of the council calling her about the complaints and was on her tenants' side. "They said this couple are just complainants."
Another neighbour said he believed Joseph had started a "campaign of vexatious harassment". "If they were [too noisy] I would have complained myself."
The council this week installed noise-monitoring equipment at Joseph's house. He hoped it would persuade the council to issue his neighbours with an abatement notice.
COUNCILS' POWERS
Councils deal with excessive noise in two ways. One is by issuing an excessive noise direction for one-off issues such as parties. Valid for 72 hours, the notice can lead to the seizure of noise-making equipment or a $500 fine.
For ongoing issues, councils can issue an abatement notice. This is valid until withdrawn. Each breach results in a $750 fine. Councils can install noise-monitoring equipment at the complainant's property to determine whether they need to issue an abatement notice.
Have you got a problem neighbour? Email kieran.nash@hos.co.nz