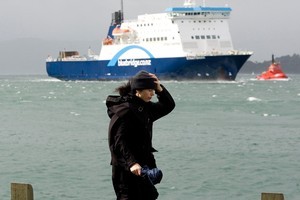 A woman walking along the Wellington waterfront holds onto her hat as gale-force southerly winds lash the capital, one of many regions to feel the effect of cold and windy weather.
But it should be dry by Easter weekend.
MetService duty forecaster Gerard Barrow said showers and strong wind were caused by a wintry outbreak which moved across the country on Sunday night.
Weather Watch chief analyst Philip Duncan said a high would move over the country today bringing light frosts to sheltered inland areas of the South Island and lower North Island.
"That should lock in the cold and snap-lock it in."
He said Easter weekend would start off warm for those who are going away, but the weather was likely to deteriorate on Saturday.
"It should be dry, sunny, calm. It doesn't matter if you're flying driving or going by ferry, it looks good. But it doesn't last," Mr Duncan said.
A low moving from the Southern Ocean on Saturday will bring rain and cool temperatures that will last until Easter Monday.
Mr Duncan said next week would be dry and sunny with another high coming in.
"It's looking good for the second week of the school holidays."