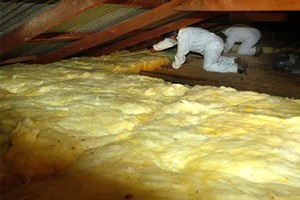 Aucklanders who wish to make their homes warmer, healthier and more sustainable will be able to apply for money to upgrade them from July.
The Auckland Council is set to introduce the regionwide programme which is a version of the Retrofit Your Home programme available in West Auckland.
Under the new programme, householders will be able to apply for financial assistance from the council up to a maximum of $5000 including GST so they can afford to insulate their homes.
The loan will then be repaid to the council through the property's rates bills over nine years.
Auckland Deputy Mayor Penny Hulse said the scheme should help improve inefficient systems that can add a lot to household bills.
"We want Aucklanders to live in healthy, warm and dry homes and we want to encourage this in an energy-efficient and sustainable way," she said.
"It is fantastic to see this project expanded to the region."
The regional Retrofit Your Home initiative will be a two-stage process.
In the first, householders wanting to insulate their homes will get a quote and apply to the council.
A free Sustainable Home Assessment and a Retrofit Plan will be then be prepared with recommendations.
The property owner will then have to sign a Ratepayer Agreement and submit it to the council.
Acting Minister of Energy and Resources Hekia Parata welcomed the initiative and said it would mean fewer visits to doctors and hospitals, thus reducing pressure on the healthsystem.
"The Government grant, coupled with the ability to pay the difference off over time, will make it easier for more people to choose to invest in insulation, and that is good for them, and the community as a whole," she said.
A funding pool of $3 million will be available for the 2011/2012 financial year for the regionwide initiative which builds on the Government's Warm Up New Zealand: Heat Smart home insulation and heating programme.
The Auckland Council joins the Greater Wellington Regional Council, Nelson City Council, Hawkes Bay Regional Council, Marlborough District Council, Tasman District Council and the Chatham Islands Council in providing a rates scheme for its residents
The Government is spending $347 million over four years to retrofit at least 188,000 homes.
Since July 2009, more than 91,000 throughout the country have been retrofitted through the scheme.