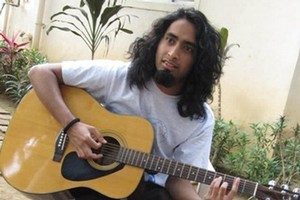 The family of a young man who disappeared at a dangerous west Auckland surf beach last week are still clinging to hope he is alive.
Twenty-one-year-old Rhyan Rego, who cannot swim, was last seen paddling in shallow water at Muriwai Beach late Thursday afternoon.
Three of his five friends had left to get takeaways and the remaining two who stayed in the water thought Rhyan had gone with them.
When they came back and realised their friend was missing they called police, who sent a helicopter as night began to fall.
The bad weather and choppy seas made the search difficult so it was called off around 9pm.
His brother-in-law and some friends joined the search early on Friday morning, and have been at the beach every day since.
Rhyan's father, Vincent, said his son was a talented artist and musician and was the lead singer of a band called Tangaroa, meaning God of the Sea.
"It's prophetic actually, and I understand it was chosen by Rhyan..."
Mr Rego said the family's grief was becoming somewhat less with each passing day, but they were still holding onto hope.
"A lot of our Christian friends and well wishers and the youth from various parishes in Auckland are joining us tomorrow to storm the heavens and ask God for his help, because it's beyond human intervention now, so we're just holding onto that promise and hope."
Rhyan was in his final year of a graphic design degree at Unitec and was one of the top students in his class.
The Rego family are holding a service for Rhyan at St Dominic's Church in Blockhouse Bay tomorrow.
- NZPA