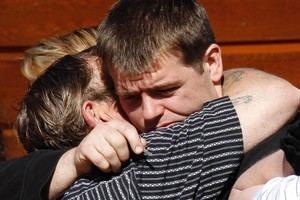 Families of the 29 men who died in the Pike River tragedy have rejected a suggestion that police leaked CCTV footage to TVNZ before they even knew of its existence.
Police spokeswoman Barbara Dunn said earlier today that the clip may possibly have been leaked to the broadcaster by Pike River Coal employees or police.
A statement issued by the families' legal counsel said they had no reason to believe the police would have done so.
"To the contrary, the families have been aware of resistance by the police ... of such material going into the public arena except through the Royal Commission process."
The families accused officials of withholding information for not showing them footage screened by TVNZ on Sunday.
The short CCTV clip, taken in the wake of the first deadly explosion on November 19, showed survivors Daniel Rockhouse and Russell Smith stumbling out of the mine.
They had their arms around each other and Mr Smith's blackened face was clearly visible.
Spokesman for the Pike River families Bernie Monk said he was angry those who had lost loved ones in the tragedy were not shown the footage by police or Pike River Coal.
It raised questions about whether more clips were being withheld, he said.
"Show us what has to be shown and we're happy as Larry. Well that hasn't been the case.
"The families did not know this clip existed at all. They told us we would be the first to see things before they went to air."
The families' legal team had written to police and Pike River lawyers requesting the release of any other footage taken around the time of the explosion, he said.
"We've had to do everything on our own - our own inquiry about what happened... no-one will release anything to us at all. Now we're asking how much more have they held back? How much more is there that we should know about?"
Mr Monk said he was disturbed there was no-one to greet the survivors as they exited the mine.
Ms Dunn said the footage of Mr Rockhouse and Mr Smith should not have been given to TVNZ as it was to be used at the Royal Commission of Inquiry into the Pike River disaster.
She did not know why families had not been shown the footage, but did not see any reason why they should not have been.
"I don't think there was any campaign to withhold it from families."
The fact no-one came to greet the survivors indicated there was never a safe window of opportunity to enter the mine and look for survivors, Ms Dunn said.
The Royal Commission on the Pike River Coal Mine tragedy is starting substantive hearings in Greymouth on May 23.