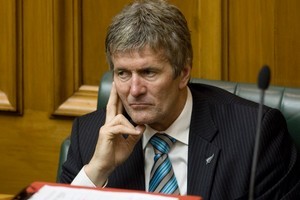 Labour MP Damien O'Connor has hit out at his party organisation, saying its candidates list was drawn up by "a gaggle of gays and self-serving unionists" who gave "straight shooters" little chance of success.
Labour yesterday released its party list, which includes at least seven new names who could enter Parliament this year.
Mr O'Connor, the electorate candidate for the marginal West Coast-Tasman seat, said he withdrew from the party-list process before the final meeting.
"I wouldn't trust them. Between a gaggle of gays and some self-serving unionists, I'm not sure that a straight shooter such as myself would be given a fair deal."
Labour leader Phil Goff said he had "scolded" Mr O'Connor about the comments, which the MP had told him about, "although ... it will probably help him no end on the Coast. He's a pretty straight talker and he used West Coast language."
Mr Goff believed Mr O'Connor could win back the electorate, but did not believe his views of the list ranking committee were accurate, saying people were chosen for their skills rather than backgrounds.
Mr O'Connor is understood to have a tense relationship with some unionists within the party over West Coast issues. He was West Coast MP from 1993 to 2008, when he lost the seat to National's Chris Auchinvole by just 971 votes.
He said his decision not to go on the list gave West Coasters a clear decision "to either have me as an electorate MP or that's it - I'll get on and do something else."
Labour's new president, Moira Coatsworth, defended the list process, saying each sector group got only a few votes out of 36 on the committee and groups had done a good job of setting aside their own causes in the interests of selecting a broad-ranging list.
However, many of the newcomers to the list were sanctioned by the union affiliates. Former party president Andrew Little, secretary of the Engineering, Printing and Manufacturing Union, was given 15th place on the list, just below Labour's front-bench MPs.
Mr Little said he hoped to win the New Plymouth seat rather than be a list MP.
Many other newcomers with high enough rankings to get into Parliament also had union backing. They include the press secretary to the Labour caucus, Deborah Mahuta-Coyle, who is ranked at 26, above several current list MPs.
Others are Michael Wood (32), who chairs Mr Goff's Roskill electorate committee and stood in the Botany byelection, Kate Sutton (35) and Jerome Mika (36). All three have some union background.
While most of the current MPs are listed according to their caucus rankings, some will be disappointed by their list positions. Junior whip Steve Chadwick, a list MP, was ranked at 34 and Phil Twyford at 33, both below their caucus ranking. Mr Twyford said he would work hard to win the Te Atatu seat, currently held by Chris Carter.
Click here for the full Labour List