In part 2 of the Herald series 'China and us', Lincoln Tan looks at how China has influenced the eating habits of New Zealanders.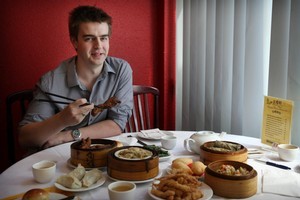 This Kiwi has been interested in all things Chinese for the last half a century - long before the meteoric rise of China to a global economic powerhouse or even before large numbers of people from the Middle Kingdom migrated to Middle Earth.
For 78-year-old Allan Hughes, his love for everything Chinese began more than half a century ago when a Chinese girl - the only one at the school he studied at - dropped him a note on the last day of school saying she liked him.
"I envisioned we will be spending our lives together, and began taking an interest in the Chinese culture and learned a few words so I could converse with her family," said Mr Hughes, a retired Immigration New Zealand compliance manager.
But their love was not to be, and although the pair went their separate ways after finishing Palmerston North Technical, Mr Hughes started a new love affair - with the Chinese culture - which has carried on until today.
"There is a certain depth, richness and a sense of mystery in the culture and language that just intrigues you," he said.
Some of Mr Hughes' friends call him the "Kiwi Chinaman".
He's the only Pakeha member of the Chinese band Bai Hua (100 Flowers) and his hobbies include watching Chinese DVDs and playing Chinese tunes on his ukulele.
Two large gold-framed Chinese calligraphy sets adorn the living room wall at his Lisnoe Ave home, where the flags of both China and Taiwan are also prominently displayed.
Last year, he participated in and won a Chinese radio singing contest crooning what's regarded as the most famous Chinese love song The Moon Represents My Heart by Teresa Teng.
Mr Hughes says he loves how the Dominion Rd area, close to where he lives, has been transformed into a "mini Chinatown", where Mandarin and Cantonese fill the air and the smell of roast duck and barbecue pork curls out of the many Chinese restaurants and cafes.
Like many Kiwis, not too long ago getting a takeaway dinner meant fish and chips or roast, but Mr Hughes says now it's more likely yang chow fried rice or roast duck noodle at a local Chinese cafe.
Although Mr Hughes is likely to be the exception rather than the norm, sociologist Paul Spoonley says China's growing influence will continue to touch the lives of Kiwis in many ways - but the biggest influence will be in food and how we eat.
"New Zealanders will eat less roast and potatoes and more rice and soya chicken. In fact, it's already happening," said Professor Spoonley, of Massey University.
"Our habits have changed, and instead of heading out for Sunday roast, many more Kiwis are going to Chinese restaurants for yum char."
Professor Spoonley, who heads the Integration of Immigrants Programme, said food and retail were the two most popular "business choices" for Chinese immigrants.
In 2006, 20.8 per cent of China-born migrants were involved in food and accommodation services, while 15.8 per cent were in the retail trade.
Between 2001 and 2006, the number of migrants from China doubled to 53,694, which now makes up more than half of the ethnic Chinese population of Auckland.
"Of the retail businesses they start, most also involve food or consumption, such as a grocery shop or a Chinese supermarket selling Asian food and ingredients," he said.
Chinese food retailers and restaurants have been part of New Zealand since the 1920s, but gained a foothold in the 1960s.
Since the 1990s, Chinese food and restaurants have become an "omnipresent and obvious part" of most major cities in New Zealand, especially Auckland.
Professor Spoonley said food is the "most obvious manifestation" of diversity and Chinese presence in New Zealand.
He said many of the fish and chip takeaways and coffee shops that had been taken over by Chinese operators were imbued with a "Chinese touch" - offering a Chinese menu or selling Chinese pastries on the side, and many also no longer alter the dishes "to suit Kiwi tastes".
Asian food guru Connie Clarkson says Chinese food is attractive to New Zealanders because it is "affordable and easily accessible" - and it will become even more so in these tough economic times.
"Dining at a European restaurant can burn a hole in your pocket, but you can get a decent feed for around $10 at some Chinese ones," Ms Clarkson said.
She said the Chinese influence in food also extends into meat cuts and ingredients used at Western restaurants, and even some cooking programmes on television.
"Pork belly, a Chinese favourite, is now widely used even at top end Kiwi-European restaurants, where Asian fusion dishes are becoming common," said Ms Clarkson, an ethnic Chinese originally from Singapore.
Chinese ingredients are now used in shows like MasterChef New Zealand, she said.
Most Chinese restaurants approached by the Herald said they have experienced a growth of between 20 to 50 per cent of non-Chinese customers in the last five years.
Dynasty Chinese Restaurant on Wakefield St said its non-Chinese patronage has grown from 10 per cent when it opened about 15 years ago to making up more than 50 per cent now.
"Pakeha customers used to order just things like sweet sour pork and fried rice, but now they are more adventurous and some are even asking for dishes that they have discovered during their travels in Asia," said Mui Seng Lee, who co-owns the restaurant.
Simon Verbiest, a business consultant, says eating Chinese meals has gone from "just a novelty" to becoming "a regular staple" for him.
The 24-year-old described himself as "semi-adventurous" who would eat anything except red beans, but finds eating things with bones - like chicken feet - hard work.
Mr Verbiest said having a Chinese fiancee also played a part in his interest in Chinese food and culture.
Retail assistant Janine Lawson, 26, who grew up on a Waikato farm said she started "falling in love" with Chinese food when she moved to Auckland to further her studies five years ago.
Until then, she had been eating mainly porridge and scrambled eggs for breakfast and roast meals for dinner, but now prefers eating "char shao bao" (barbecue pork bun), which she has ready stocked up in her freezer, and fried rice and chow mien for tea.
Auckland-born Chinese lawyer Arthur Loo recalls how his father had to import Chinese ingredients from Hong Kong "just so that we can have an authentic Chinese meal" 40 years ago.
"Now, we can get everything just five minutes away."