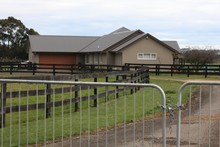 Police divers have spent three days searching waterways on the property of Manawatu farmer Scott Guy since his brother-in-law was arrested for his murder.
Police are saying no more than that they are looking for evidence connected with the nine-month-old Feilding slaying.
On Thursday they arrested father-of-four Ewen MacDonald, 30, and charged him with the murder of his brother-in-law, Mr Guy, 31, who was gunned down in the driveway of his Feilding farm on July 8 last year.
The weapon used in the shooting has not been recovered.
A squad of five divers had been at the property since Thursday and it was quite possible they would return today, police spokeswoman Kim Perks told NZPA.
They were reported to be concentrating on an area about 100m from Mr Guy's house.
She would not confirm searchers were looking for a weapon, saying only that the search was for "evidence" relevant to the inquiry.
MacDonald, who is married to Mr Guy's sister Anna, appeared in the Palmerston North District Court on Friday charged with the murder, and his lawyer indicated he would defend the charge.
Meanwhile, another of Mr Guy's sisters, Palmerston North City councillor Nikki Guy will no longer seek the National Party nomination for the Rangitikei electorate.
She said she was too distressed to stand and wanted to help her family through the next few months instead.
- NZPA