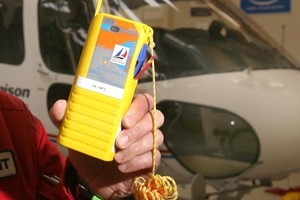 Rescuers are focusing on an area at the top of the South Island in the search for missing ex-Olympian microlight pilot Geoff Smale.
Six helicopters and a fixed wing aircraft have today been searching a large area between the North Shore and Ashburton.
The search was sparked when businessman Geoff Smale, who represented New Zealand in yachting at the Olympic Games, left North Shore before noon yesterday but failed to turn up in Ashburton by 5pm.
Rescue Co-ordination Centre search and rescue officer Neville Blakemore said a partial radar track showing an aircraft that could be Mr Smale's moving south from Cape Soucis in Tasman Bay at 1.40pm down through the Rai Valley North East of Nelson was being investigated.
Mr Blakemore said the latest radar data fitted in with earlier data showing an aircraft disappearing from radar just South of Taharoa in the Waikato at about 12pm yesterday, then resuming near Stratford in Taranaki before being lost again about 1pm near D'Urville Island in the Marlborough Sounds.
Respective searches of those areas by a helicopter and fixed wing aircraft had found no trace of the missing aircraft.
The new data had given searchers additional leads about Mr Smale's possible route.
Mr Blakemore said the search would continue until dark, but barring any new information about the missing craft, would likely be stood down overnight. Searchers would however reassess all the available information gathered in the last 24 hours overnight, with plans to resume the search tomorrow.
Rescue Co-ordination Centre spokesman Ross Henderson said Mr Smale was a very experienced and fit pilot and had made the more than 800km journey, expected to take up to four and half hours, a number of times before.
This morning Mr Smale's departure time had been narrowed down to 11am yesterday, but there had been no reported sightings of him since then.
The missing aircraft, registration number ZK-SML, is categorised as performance microlight, but looks like a small plane. The aircraft is white with red detailing. It could travel at speeds of up to 250km/h and could fly for up to nine hours.
He had planned to fly via Wanganui, Blenheim and Christchurch and anyone who had sighted the microlight was urged to call police.
Mr Smale was carrying a personal locator beacon, a radar device and a mobile phone, but none of them had been detected. Nor had there been any sightings of the microlight, Mr Henderson said.
"He normally calls into the Wellington tower as he crosses Cook Strait but they haven't received a call, which suggests he hasn't got that far, but who knows, we can't assume too much."
The four helicopters were searching the route around Auckland, Palmerston North, Wellington and Christchurch, including coastal areas.
The weather along the route yesterday was good overall, with a few cloudy patches. Weather today is generally good for searching, although there is fog in Canterbury.
Mr Smale represented New Zealand in the Flying Dutchman class at the 1968 Mexico Olympics.
- NZPA, NZHERALD STAFF