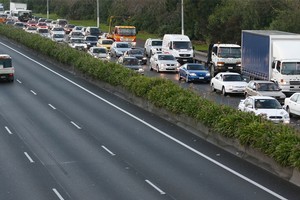 Can you find out what the work is underneath the Market Rd offramp going north please? Also, when will the new, wider lane be opened from beneath Market Rd to Greenlane going south?
Max Purdy, Auckland.
The Transport Agency is having the Market Rd bridge, including the northbound offramp, restructured to make it stronger and safer to withstand a seismic event, in much the same way as Grafton Bridge was. Just north of Market Rd, the replacement viaduct at Newmarket is being built to withstand a 1-in-2500 year seismic event. It all seems eminently sensible in these uncertain times.
And the Transport Agency plans to open the additional southbound lane from Market Rd to Greenlane on the Southern Motorway in stages in a few weeks' time when construction is complete. Work at Market Rd is separate.
This has given me some amusement and I thought you might like to share.
On Verissimo Drive (at the edge of the Auckland Airport complex) just outside Apex Car Rentals there is a speed sign - well, actually, a pair of speed signs, since as usual there is one on each side of the road. The problem is that one says 50 and the other says 60. Coming from the opposite direction the signs (predictably) are also a 50/60 mismatch. I think I know how they are meant to be but whether this is an installation error or someone twisting them for fun, I don't know. I do wonder what speed I really need to treat as the maximum for this road?
Judy Lawry, Auckland.
The ever-helpful Richard Llewellyn, corporate relations manager at the airport, has had this fixed. The signs have been restored to the correct alignment and tightened so it can't happen again.