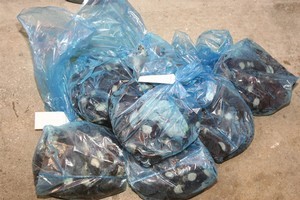 One of the largest anti-paua poaching operations in New Zealand history has resulted in more than 50 people being charged, the Ministry of Fisheries said today.
Police and fisheries officers took part in operation PAID, short for paua and illegal divers, and focused on poaching in both Wellington and other parts of the North Island, the ministry said today.
The two-year operation resulted in 53 people being charged with 321 charges.
Most of the defendants had already been sentenced, with 28 receiving prison sentences ranging from seven months to three years and two months.
The covert operation targeting organised poaching and sale of paua from the Wellington coastline culminated in May 2008 when 200 fishery officers and police carried out a simultaneous enforcement action in Auckland, Wellington, Opotiki and Hastings.
Fisheries and Aquaculture Minister Phil Heatley today praised the professional way the operation was carried out.
"Unravelling sophisticated criminal enterprise like this takes exceptional organisation and persistence," Mr Heatley said.
The Government totally supported efforts to catch poachers.
"Fish thieves must be nailed," he said.
Ministry of Fisheries field operations deputy chief executive Andrew Coleman said the operation had been a long but rewarding process.
"We've finally put PAID to bed, and we're able to keep using the full range of compliance tools available to us to protect our fisheries from thieves like these," Mr Coleman said.
- NZPA