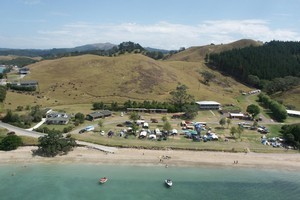 Another piece of traditional Kiwi holiday paradise is for sale.
The Whangaruru Beachfront Camp, near Oakura in Northland, faces closure if the new owners of the 59ha site decide to develop it. The $8.3 million waterfront property would be an attractive prospect for homebuilders. It is in one title but can be split into three.
The owner is North Shore barrister John Moroney, through his company Clan Na Gael Holdings.
Moroney referred queries to Bayleys agent June Maconaghie, who said there had been interest from within New Zealand and expats.
A decision on whether the new owners would develop the property "could go either way".
The new buyer of the Blue Heron Holiday Park at Whangarei Heads ended up keeping the campground, she said.
Whangaruru Beachfront Camp staff member Judy Blair said families from as far as Wellington made trips for the Christmas/New Year holiday.
The current capital value of the property is $8.3 million.