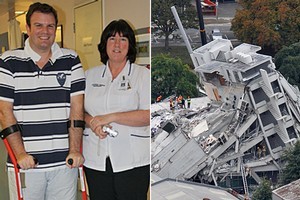 An accountant who suffered severe injuries when he was trapped under rubble for 10 hours in the wake of the Christchurch earthquake has walked out of hospital.
Nick Walls, a senior accountant with Leech & Partners, suffered crush syndrome when he was pinned on his left side under his desk at the collapsed Pyne Gould Corporation building on February 22.
Rescuers dug a tunnel to reach Nick and drag him to safety but the 30-year-old needed surgery to amputate muscles and tissue around his buttocks.
Up until yesterday, he was in Christchurch Hospital's orthopaedic ward recovering.
Ward charge nurse manager Karen Wilson said Mr Walls had made a great recovery.
She attributed that to his positive attitude, determination to walk, the support he has received from friends and family and the work of the medical staff who cared for him.
"Nick is the loveliest guy; we're really going to miss him."
Mr Walls tributed the care given to him by the doctors, nurses and other staff at Christchurch Hospital.
"Without them I wouldn't be walking out today."
His mum Jenny Walls said despite how hard it was to see her son injured, she felt lucky.
"There have been so many people affected by what has happened and much worse than us. We are so lucky to have Nick with us."
Although Nick has been discharged Christchurch Hospital staff will remain in close contact to monitor his progress.
He will also be able to be immediately admitted should he need further treatment.

- NZ Herald staff