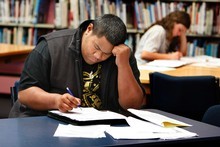 Overall achievement rates for Maori and Pasifika students have risen slightly in the past year, with more Maori gaining University Entrance.
The number of Maori students who qualified to get into university went up by 3 per cent last year. A total of 47.6 per cent of Maori students gained entry, while in the previous year that figure was 44.1 per cent.
The number of Pasifika students gaining a University Entrance qualification stayed the same in both 2009 and 2010 results, at 36.7 per cent.
Both Maori and Pasifika students studying towards NCEA Level 1 did better last year, compared with results in 2009.
For Maori, a total of 60.8 per cent of Year 11 students gained their Level 1, while only 56.8 per cent achieved that in 2009.
For Pasifika students the increase was a small jump, with 53.9 per cent of Year 11 students gaining NCEA Level 1, compared with 51.8 per cent the year before.
The principal of Rotorua High School - whose Maori achievement pass rates are regularly well above the national standard - said the improving results were something his school had seen each year.
Chris Grinter said Rotorua High School was very much a goal-setting school, which aimed high and therefore regularly achieved solid results.
"We identified a long time ago that there was a gap between Maori and Pasifika achievement and non-Maori and [non]-Pacific achievement," Mr Grinter said.
"We knew then that we needed to address that and so we formed strategies over the years to make sure those students achieved."
By Vaimoana Tapaleao

Email

Vaimoana