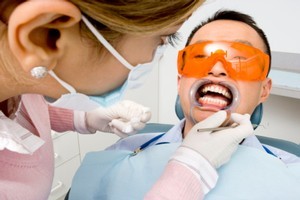 People tempted by lower costs to have their teeth whitened by non-dentists should be aware of injuries that can result, says the health and disability commissioner.
The warning comes after commissioner Anthony Hill examined the case of a woman who felt burning pain and had her gums turn white after having her teeth whitened.
The unnamed woman experienced "severe mouth pain and burning gums" after her teeth were bleached by an unregistered non-dentist practitioner, who also remained unidentified.
Mr Hill noted there was no legal requirement for whitening to be done by a dentist.
But the case "highlights the risks of teeth whitening being carried out by persons who are not qualified to assess consumers' teeth".
The executive director of the Dental Association, Dr David Crum, said he was aware of many similar cases, which were often caused by whitening being carried out on people with gum recession or decayed teeth.
"The gums recede up the tooth surface, so there's part of the tooth root that isn't covered by hard enamel," he said.
"You put a really strong bleach on a tooth that's got exposed dentine or dental decay and you'll have problems - probably right up to the stage of killing the nerve in the tooth."
When that happened a patient would either lose the tooth or have to pay a large amount of money for a root canal procedure.
And because the person who did the whitening was not a registered health practitioner there was very little recourse available to an injured patient.
"They can't be disciplined, they can't be removed from a register. You can't claim ACC if something goes wrong ... there's very little anybody can do to help once it's happened."
The Environmental Risk Management Authority wants products containing more than 3.6 per cent hydrogen peroxide to be available only under the direction of a dentist.
Public submissions will be ruled on by a Government-appointed authority after a hearing on April 12.
The Dental Association backs the change, and says patients should at the very least be required to have a full dental checkup before a strong bleach is used on their teeth.
Bleaching by non-dentists cost about half as much as when done by a dentist, and Dr Crum had seen ads in which whitening at 24 times the normal strength was promised.
"The system they use is what's called a stock tray ... the bleach goes everywhere, which is why you get the burning of the gums.
"A dentist [will] take a model of your teeth and construct a tray that fits against the surfaces of the teeth they want to bleach."
He said do-it-yourself whiteners and whitening toothpastes were generally safe as they used a lower concentration of bleach.