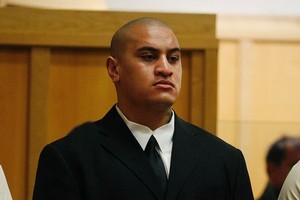 Inmate Latu Kepu, who killed prison guard Jason Palmer with a single punch, has had his appeal against his sentence dismissed by the Court of Appeal.
Kepu was convicted of the manslaughter of America-born Mr Palmer, 33, in an attack at Springhill Prison at Hampton Downs, about 65km south of Auckland, on May 15 last year.
Mr Palmer was punched as he opened a cell door to let Kepu out for his hour of exercise that day.
Kepu was sentenced to six years four months in jail on top of the existing two years eight months term he was already serving.
During Kepu's trial the judge was advised that when an offender caused the death of a victim with a single punch, the starting point would be between three and four years imprisonment. But the judge considered that a significant increase was appropriate because of aggravating factors.
In the appeal, Kepu's lawyer Mike Robb argued the sentence was manifestly excessive because this was a "single-punch" incident but Justices Anthony Randerson, Simon France and Graham Lang did not agree. In their decision they found the sentence was appropriate and "single-punch" case law could not apply because of the context of the prison environment.
The sentences imposed in these cases must demonstrate to other prisoners that the courts would not tolerate unprovoked attacks on prison officers, the judges said.
"Kepu's offending had the seriously aggravating factor that it was a deliberate and premeditated attack on a prison officer who was carrying out his duties within a prison environment."
The decision went on to say that taking those factors into consideration, there was no difficulty in upholding the sentence imposed on Kepu.
The increase of two years to reflect Kepu's previous convictions was also appropriate because of his violent history.
The appeal was dismissed.
- NZPA