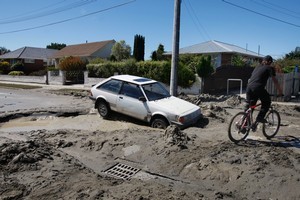 The Insurance Council and the Earthquake Commission (EQC) disagree over who will cover what insurance costs of the Christchurch earthquake.
EQC chief executive Ian Simpson has said the February 22 quake would be classified as a new event for some but not for others, meaning some homeowners would be covered for $200,000 by EQC and others for only $100,000, The Press reported today.
He said homeowners already paid $100,000 after the September earthquake would qualify for another $100,000 of additional damage, because the February 22 earthquake was being treated as a new earthquake.
Also if insurance cover rolled over between September and February, the EQC cover was reset.
Quake-hit homeowners unlucky enough not to have been assessed by the EQC after September 4 would be covered only once for $100,000, meaning insurers would have to meet more of the bill.
Insurance Council chief executive Chris Ryan said he disagreed with the EQC's position which made it "potentially problematic" for some Christchurch residents.
He said if the EQC and insurers could not agree, some homeowners hit twice by quakes could miss out on up to $100,000 of cover.
He said it was still early days and a lot of "grey area" needed to be resolved.
- NZPA