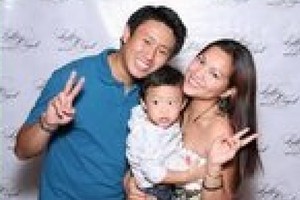 Police now believe 182 people died in Christchurch's devastating earthquake but say it could take months for the last bodies to be identified.
They tonight released the names of two more victims of the quake.
They are:
* John Kristoffer Villegas Chua, 24, of the Philippines
* Chang Lai, 27, of China
This brings the total number of names released to 142.
Both Mr Chua and Ms Lai were students at King's Education on the third floor of the CTV building. Both were believed to be nurses.
Today Mr Chua's father, Arthur Chua, told the Sun Star newspaper in Cebu in the Phillipines that the family was relieved he had been found.
"Our family is happy that finally JK's body has been identified through his watch, wedding ring and dental records," he said. "Hopefully, his remains will be with us soon."
Mr Chua said his daughter Johanna and her husband, Bill, had been in New Zealand for more than a week waiting for authorities to release the body of his boy, the second of four children.
Earlier, Mr Chua's parents told media in the Philippines he had only been in New Zealand for two days when the quake struck. He leaves behind a wife and young son.
Ms Lai called her father in China soon after the quake struck and said: "I'm dying, Dad," before the phone cut out, reported a Chinese newspaper.
Ms Lai's grieving colleagues from a hospital in Guangzhou donated money to help her husband to come to New Zealand after the quake, said the Yangcheng newspaper.
This evening's update comes as Prince William arrived in the city and was stunned by the scale of devastation inflicted by the quake after touring the "red zone" in the central city this afternoon.
"The scale of it is unbelievable," the Prince said in Latimer Square, near the CTV building in which many lives were lost in the magnitude 6.3 quake on February 22.
His visit was a morale boost for Christchurch as it recovers, said locals who waited to see him when he visited the Civil Defence hub at the city's art gallery before touring the red zone, off-limits to the public.
Dressed in a blue shirt, black jacket and tan trousers, Prince William met Civil Defence national controller John Hamilton and chatted with him, Mayor Bob Parker and Earthquake Recovery Minister Gerry Brownlee before going inside the building.
At today's press conference Superintendent Dave Cliff said police expected the death toll to climb from the current number of 166 confirmed dead to 182. Previously they estimated the toll would be 180.
He warned that it would be a slow process identifying the last victims as all the had to go on was the "fragments of human remains", he said.
"To date we have confirmed the identity of 140 of the victims and expect that number to rise in the coming days, however the point we're reaching now is that the identity of those last number of bodies is becoming increasingly difficult."
In some cases it could take "several months", he said.
Today the Queensland fire and rescue task force - the last of the international urban search and rescue (USAR) teams - left Christchurch.
Internal Affairs Minister Nathan Guy expressed his gratitude to the team and all the international USAR teams who had helped with the rescue and recovery operation.
"At its peak, around 600 USAR personnel were based in Latimer Square in the aftermath of the devastating earthquake. This included foreign personnel from Australia, Singapore, Japan, Taiwan, China, USA and UK," Mr Guy said.
"I want to thank all the USAR teams who have worked so hard in difficult conditions. I'm sure all New Zealanders are grateful for their courage and dedication," he said.
Meanwhile, Civil Defence national coordinator Steve Brazier gave an update on the number of buildings which had been given a red placard, indicating they were unsafe to enter.
Of 61,000 homes checked for damage, 1630 had been given red placards and of the 4067 commercial buildings checked, 840 received red placards, Mr Brazier said.
"This is not a demolition order it is a notice to the owner that their building is dangerous."
Lines company Orion said, excluding customers in the CBD, power had been restored to all but a few small pockets of customers in the eastern suburbs.
Power was still off to about 40 per cent of the CBD due to damaged substations and cables and restricted access for safety reasons, the company said
Police were also happy with the progress they were making retrieving cars which had been abandoned in the central business district after February 22's quake.
"We have located and returned to owners nearly 1000 vehicles, which is approximately 98 per cent of those that have been abandoned in the central city," Mr Cliff said.
Vehicle owners were warned that some vehicles could take weeks to recover because of severe damage to car park buildings.
- NZ Herald staff, NZPA