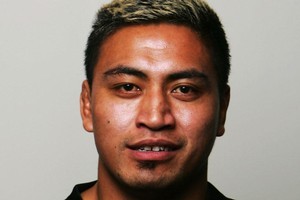 Former All Blacks hardman Jerry Collins has been embroiled in a late-night incident at a Wellington bar.
A witness said the ex-Hurricanes blindside flanker and a friend were involved in an altercation at the Wellington bar Public during which a bottle was thrown.
Police were called.
The witness said the pair appeared drunk and aggressive towards staff and were refused service.
"They [the staff] must have been pretty pissed off to call the cops," he said.
Police said they were called to the bar after a report of disorder by two male patrons, one of whom was arrested for breach of the peace.
It is understood that person was Collins' companion.
The Wellington police emergency response manager, Acting Inspector Scott Miller, said the matter was dealt with after an agreement was reached between staff and the two people involved to pay for damage caused after a bottle was broken.
"One of those people was subsequently arrested outside the bar for breach of the peace, due to his poor behaviour."
Public's manager, Stephen Reynolds, also confirmed there was an incident at the bar on Sunday about 11pm.
"My official line is that there was an incident and it has been resolved," he said.
Asked if this incident involved Collins, Mr Reynolds replied, "It did."
The witness said that when police arrived, an officer accompanied Collins inside the bar, where he apologised to the staff.
"His whole demeanour changed when the cops showed up and he played the game. Police were saying to him, 'Come on Jerry, you're better than this', then they put him in a taxi and sent him home.
"But his mate was obviously having a bit to say and he was arrested, cuffed, put in the back of the car and taken away."
The Herald put questions to Collins' agent, Tim Castle, but in emailed responses he said that posing the questions was an "invasion of privacy" and "some kind of tabloid tittle tattle".
"Like all citizens, Jerry is entitled to his privacy," he said.
"There are no issues so far as Public is concerned so what is the legitimate public interest in any event?"
Collins, who is contracted to Welsh side Ospreys, is in New Zealand for a brief stay.