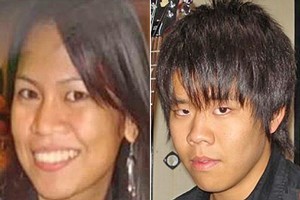 Police have this evening confirmed the identities of a further 11 people who died in the Christchurch earthquake, all of whom were at King's Education language school on the third floor of the the devastated CTV building.
They are:
Emmabelle Cabahug Anoba, 26, of the Philippines
Heidi Julie Berg, 36, of Christchurch
Yuki Hasumoto, 22, of Japan
Tomoki Ishikuro, 19, of Japan
Saori Kikuda, 19, of Japan
De Li, 18, of China
Wanju Li, 44, of China
Emi Murakami, 19, of Japan
Saya Sakuda, 19, of Japan
Yurika Uchihira, 19, of Japan
Saki Yokota, 19, of Japan
Heidi Berg was a teacher at King's Education while the 10 others named this evening were students.
The seven Japanese students are believed to all be from the Toyama College of Foreign Languages in Toyama City.
Weary city gets a chance to grieve
As Christchurch continues to recover from last month's devastating earthquake, Friday's memorial service will give the weary city a chance to grieve one of New Zealand's most tragic events.
The national Christchurch memorial service , which is to be held in Hagley Park starting at noon, comes as the city is still badly affected by the February 22 quake, with the central business district (CBD) still cordoned off amid numerous broken down buildings and irreparable homes.
Prime Minister John Key, along with a number of high level dignitaries from around the globe, will be attending - including Prince William and Australia's prime minister, Julia Gillard.
Christchurch's Anglican bishop, Victoria Matthews, who will lead the service, said it would give people not only the opportunity to grieve those who died, but also a chance to mourn the "death of a city".
The first focus of the service was commemorating those who died and their families, Bishop Matthews said.
"We will be calling to mind those who have died in the most tragic circumstances possible, some as young as five weeks old," she said.
"The second focus of the service, which is every bit as important for a larger number of people, is the death of a city that we knew and love."
As part of mourning what had been lost, a "stark and shocking" video of the destruction caused by the quake would be shown to those who attend.
"It is, frankly, a work of art, but stark and shocking," she said.
The service was important because although many people were getting on with their lives following the quake they were still in a state of shock.
"I talk to people who say they are alright and yet I recognise a level of shock and numbness and paralysis that was not there prior," Bishop Matthews said.
"Grieving is a journey, not an event... along the way there has to be a signpost and the memorial service is one of the important signposts."
Earlier in the week Christchurch Mayor Bob Parker said the service was going to be a "special day" for the city.
"It is an opportunity for all of us in this city to stand together and grieve together, remember those who we have lost and those who are missing... and find some strength in each other as we face hard days ahead on the road to recovery," Mr Parker said.
During the day, which is also a public holiday for the residents of the city, singers Hayley Westenra, Dame Malvina Major and Dave Dobbyn will be performing.
Meanwhile, police Superintendent Dave Cliff said there would be a heavy police presence at the service and warned people not to drink too much.
"The best message we've got for people attending is to stay sober, we want people to have their wits about them," Mr Cliff said.
There would be extensive patrols in the car park in the area and in the suburbs to stop criminals taking advantage of the service, he said.
"Our message is a very strong one in that if there are those that attempt to take advantage by trying to break into people's homes or vehicles... if we catch people... they can expect to be held in our custody and we will be opposing bail."
- NZ Herald staff, NZPA