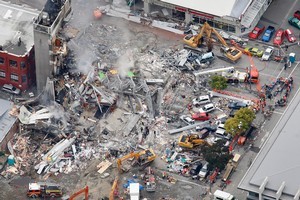 The Philippines government wants extra compensation for the families of its citizens killed in the Christchurch earthquake if inquiries find the Canterbury TV building was not up to scratch.
All 11 Philippines nationals killed in the magnitude 6.3 quake were studying at the King's English language school in the ill-fated Canterbury TV building when it collapsed and caught fire.
The Philippines government's first priority was repatriation but if a Royal Commission of Inquiry found liability then the families would demand compensation from those responsible, Philippines Embassy charge d'affaires Giovanni Palec told NZPA.
"The students come here to have a better chance of employment and families have invested a lot of money for them. Some were working and sending income to their families," Mr Palec said.
It was not clear how much would be claimed.
Mr Palec said the families knew the process may take some time but had expressed the need for justice for their loved ones.
The Chinese Embassy had also asked for compensation to Chinese families who lost children in last month's Christchurch earthquake.
Chinese Embassy disaster relief head Cheng Lei said because of China's one child policy, New Zealand should make special arrangements for added economic assistance, on top of provisions such as ACC.
Prime Minister John Key said options for the Chinese and Philippines governments were limited from a civil liability perspective, although someone could still be criminally prosecuted.
"New Zealand law is; in a work accident like this or a fatality, then ACC applies, and we have a no-fault scheme."
- NZPA