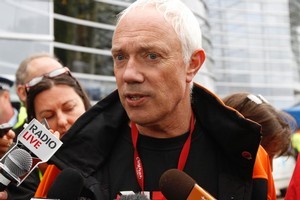 Christchurch Mayor Bob Parker says the thoughts of his quake-stricken city are with Japan following Friday's magnitude 9.0 earthquake which devastated much of the country and left thousands dead.
"Nobody knows more than the people of this city at this moment what it must be like and we can't even begin to comprehend the scale of the tragedy in Japan," Mr Parker said at a press conference today.
Meanwhile police this afternoon confirmed the identities of a further six people killed in February 22's quake, bringing the total number of those named to 123. Authorities believe 180 people were killed following the February 22 quake.
One of those named today was from Christchurch, three were from Japan, one was from Australia and one was from the Philippines.
Civil Defence controller John Hamilton announced today that part of the cordoned zone north of Cathedral Square would be opened to residents and business owners on Thursday. Announcements for other parts of the cordon would be made later in the week.
Mr Hamilton said the national state of emergency had been extended by the Government for a further week until March 21.
"Our focus in this response phase has been about making the environment safe, first for those people who are doing the rescue and recovery operations... and then in the longer run to make sure that we have made safe so access can be opened into the cordoned area."
He said more than 64,000 buildings had now been assessed, with 1516 residential and 711 commercial receiving red stickers indicating they were unfit for people to move back in.
Of the 837 heritage buildings that had been inspected, 338 had received red stickers.
Of the city's schools, 110 were now open and it was hoped 143 - or 88 per cent - would be open by the end of the week.
Parents of children whose schools remained closed could send them to one of nine learning hubs spread across the city, Mr Hamilton said.
Nine learning hubs have been set up for students whose school remains closed - parents should take them to the hub.
Superintendent Dave Cliff said the vehicle recovery process within the CBD was progressing well with over 400 vehicles now returned to their owners.
"That progress is continuing to gain momentum and tomorrow we will also begin the process of clearing vehicles from parking buildings," he said.
Mr Parker finished the press conference by offering his condolences to Japanese media, many of whom would be wanting to return home to loved ones after Friday's quake and tsunami.
He said that while the scale of the disaster in Japan was "massively" bigger than in Christchurch, on an individual level many people in Christchurch had experienced the same emotions.
"The one thing that the people of Christchurch will understand is the terror of powerlessness in the face of a massive natural disaster," he said.
He also thanked the members of the Japanese Urban Search and Rescue team who returned home on Friday.
- NZPA