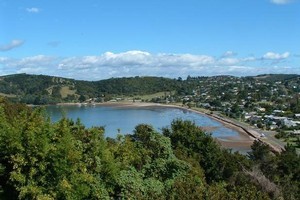 New Zealand's tsunami warning prompted by the Japanese quake-generated tsunami has been cancelled.
A Civil Defence spokesman said that, according to scientific advice, no further tsunami threat existed for New Zealand coastlines.
"Nonetheless, minor fluctuations in sea level may continue for up to 48 hours and caution is required on beaches and in marine environments," the spokesman said.
The Chatham Islands had recorded sea level changes in excess of 1m, while parts of the North Island experienced 70cm surges.
The waves were measured by coastal gauges; at Raoul Island in the Kermadecs, about 1100km northeast of New Zealand, the first was recorded at 6.35am, followed by North Cape at 7.10am. The initial waves were about 15cm high.
The only reported incident was a sailor who ran aground off Great Barrier Island whiled trying to save his yacht from the tsunami threat off Great Barrier Island.
"Unfortunately a gentleman heard the tsunami warning for New Zealand and took his yacht out to sea from a congested harbour on Great Barrier and made a bit of a navigation error and ran himself aground," Westpac Rescue Helicopter pilot Rob Arrowsmith told NZPA this morning.
The man sent out a mayday call after hitting rocks on the western side of the island shortly after midnight, Mr Arrowsmith said.
He was winched from the deck of his 11m yacht and flown to Auckland with just a few cuts and scrapes.
Mr Arrowsmith said the man's boat contained his "life-long possessions" and he was right to try and get to open water.
"But trying to avoid damage to his boat, he unfortunately has just about sunk it."
- NZPA