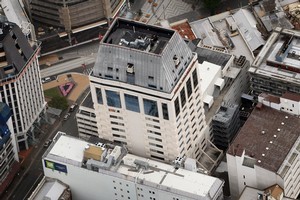 A decision on the safest way to demolish the Hotel Grand Chancellor in central Christchurch is expected in the next few days.
Civil Defence acting controller Steve Brazier told media today he was seeking advice on whether one of the city's tallest buildings would be brought "down in bits" or brought down in "one very dramatic explosion".
"There are two clear alternatives and we are just looking at which one is actually best."
"Clearly it has to come down. If you bring it down in one explosion it's faster, but of course concussion on the ground would have an effect on the buildings around the area."
The 26-storey hotel was on the verge of collapse after moving about a metre horizontally after last month's devastating earthquake. It was subsequently stabilised with concrete.
Civil Defence was receiving advice from the United States and Australia, and a decision was expected within the next couple of days.
So far 47 buildings have come down, and there are another 67 on the list, which are mostly one to two-storey structures.
"So far there haven't been any large buildings brought down, but that will happen."
Mr Brazier said the list would continue to grow.
"There are other buildings in Christchurch which would have to come down and that's going to come in due course."
- NZPA