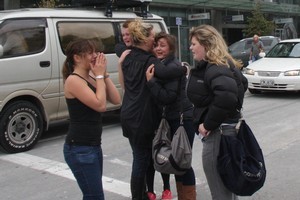 Workers caught up in last month's Christchurch earthquake may be eligible for emotional trauma compensation from ACC even if they weren't physically hurt.
Cover may be provided if someone had developed a mental injury after experiencing or witnessing the earthquake while they were at work in paid employment, ACC spokeswoman Fiona Robinson said.
"So say they were at work and witnessed someone trapped in a building as they were running outside during the earthquake, and they suffered a mental illness as a result, then yes [they may be covered]."
Similarly, if someone developed a mental illness as a consequence of a physical injury they had received from the earthquake ACC may provide cover, she said.
ACC Futures Coalition spokeswoman Hazel Armstrong said the ACC law was changed in 2008 because the Government recognised that mental trauma could cause incapacity.
However, the threshold to claim compensation was high, she said.
The person must suffer a clinically significant behavioural, cognitive or psychological dysfunction, she said.
"The claim must be supported by a reputable medical diagnosis -- for example, post traumatic stress disorder, anxiety and/or depression -- and there must be clear evidence of the harm that resulted from the medical condition."
Meanwhile, ACC minister Nick Smith said today employers would not be penalised by ACC for injuries to their workers caused by the earthquake.
Under ACC's existing regulations employers who had staff injured or killed in their work place could have their work account levies increased - but the earthquake would be considered an 'adverse event' which meant their ratings would not be affected, Dr Smith said.
- NZPA