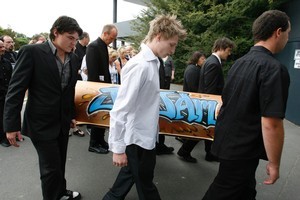 Grieving father Robert Gilbert is taking on a role no parent should ever have to play.
Mr Gilbert is the father of Jaime Gilbert, who died in the Christchurch earthquake when he was hit by rubble while fleeing the Iconic Bar, where he worked, in the central city.
Jaime, 22, was a keen and talented actor and was to have played the role of Laertes in the Christchurch Repertory's production of Hamlet.
Now Robert Gilbert, who is directing the production, will play Laertes in memory of his son.
Mr Gilbert, who is head of drama at Aranui High School, said the role would honour his son's memory.
"I know in my heart that he would want the production to go ahead," he said.
Mr Gilbert said he would learn the lines if he could, or read them on stage.
"I would like to learn it. I know I won't be as good as he was already in rehearsals, but I know it will be a way to honour him."
Jaime, a father of two, attended the National Academy of Singing and Dramatic Art in Christchurch.
A tribute to him was posted on the Repertory website.
"Jaime will forever be remembered by all of us at Repertory who had the good fortune to know him and work alongside him on the stage for his bright, caring personality and outstanding talent. No one who saw Robert's production of Brassed Off at Repertory could forget Jaime's poignant singing of Danny Boy," it said.
Hamlet was to have opened this month. But will now run for a limited season on May 5, 6, and 7 at Burnside High School - Jaime's old school.
In another blow for the Repertory, the future of its historic theatre in central Christchurch is looking bleak.
The building was damaged in the September 4 and February 22 earthquakes.
Repertory artistic director Rozena Hallum said the company had been told on Sunday that the theatre was to be demolished at 3pm on the same day.
But frantic efforts to prevent this meant the latest proposal for the building was now a partial demolition.
"We believe it will have to come down but with partial demolition we can save the historic proscenium arch," Mrs Hallum said.