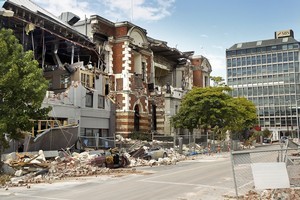 The names of six more people who police have confirmed died in the February 22 Christchurch earthquake have been released.
They are Melanie Jane Brown, 54, of Christchurch, Christopher Grant Homan, 35, of Christchurch, Melissa Ann Neale, 42, of Wellington, Allan Alexander Sinclair, 46, of Christchurch, Murray John Wood, 57, of Christchurch and Gil Hwan Yu, 24, of Korea.
Melissa Neale's brother-in-law Campbell Read confirmed her death to the Herald last week. She died in Cashel Mall in the central city.
She had a small garden behind her cottage in Wellington's Island Bay, he said.
"That was her haven."
He said she was also "mad keen" about her dog, Charlie.
"She was a much-loved auntie to her nieces and nephew."
Father-of-six Murray Wood was the managing director of Canterbury Television (CTV), one of 15 CTV staffers believed to have been killed inside their building on Madras St.
Long-time friend Robert Bijl said Mr Wood was an energetic and enthusiastic music lover with a big heart.
"He's extremely kind, extremely generous, enormously talented, very dedicated to his family and he adored his wife, Nicki," Mr Bijl said.
Allan Sinclair was a doctor at The Clinic, which was also in the devastated CTV building.

He gained his medical degree at Manchester University, England, in 1988.
Gil Hwan Yu was a student at Kings Education, which was also in the CTV building.
Gil Hwan's sister Naon was also in the building and is missing.
The father of the pair arrived in Christchurch last week to wait for news.
Consul Key Sun Shin, from the Korean embassy, last week told the Herald the father was "full of hope" of finding his son and daughter alive in the CTV building rubble.
"The father is very depressed by what has happened, but he still strongly believes his children are still alive," Mr Shin said.
A support worker says the mother of the young pair could not bring herself to travel to New Zealand because she felt "partly to blame".
"She had insisted both her son and daughter went to Christchurch together to keep each other safe. But now both of them are gone, and she feels ... guilty," he said.
The two students believed studying English would give them an edge in securing good jobs in Korea.
Brownlee takes hard line on heritage buildings
A hard line on Christchurch's damaged heritage buildings is being taken by the Minister of Earthquake Recovery.
The Minister, Gerry Brownlee, told a media briefing this afternoon that if he had his way, most of Christchurch's heritage buildings would be bowled tomorrow.
He says the old buildings killed people when they toppled during the earthquake and they can not remain.
"While they are part of our past history, they have no place in our future history. As I've said repeatedly, heritage is both forward and back and from this point on, we decide what the heritage of this city will be," he said.
Mr Brownlee said he would like to see resources go into re-building the Christchurch Cathedral, the Catholic Basilica, the Provincial Chambers and the Arts Centre - "but that's it".
"There will be a few others perhaps, but those would be the most iconic buildings that Christchurch residents would want to see rebuilt.
"They won't be put back the way they were. They will need to have a great deal of strengthening put into them and it will be quite a long consideration as to how those things might be done."
Yesterday, Civil Defence national controller John Hamilton told a media conference this morning that 1000 heritage buildings had been assessed, with 50 per cent receiving red stickers.
Red stickers mean the buildings have been badly damaged and are unsafe for entry.
A total 56,000 properties have received building assessments in the wake of last week's Christchurch earthquake.
Mr Hamilton said of the 3000 buildings assessed in the city centre, 45 per cent had received red stickers.
Another 1350 homes, many in the city's eastern suburbs, had been assessed as having severe damage.
The Historic Places Trust yesterday announced that the historic Lyttelton Timeball Station will be demolished.
The Trust's chief executive, Bruce Chapman, said that it was with much regret that the 1876 landmark could not be saved but the decision was made on engineering advice and public safety had to be paramount.
More victims to be named
More names of Christchurch earthquake victims are expected to be released later today.
Superintendent Sam Hoyle told a media briefing a further 38 bodies had been identified and the victims' families had been told.
Meanwhile, police are concerned about the growing number of arrests for drink driving in the earthquake-ravaged city.
The number of drivers being caught over the limit is rising and police are urging people to "look out for your mates".
On Thursday night, 11 people were caught drinking and driving and that number rose to 13 last night, well above the normal numbers, said Superintendent Sam Hoyle today.
"People need to look out for each other, look out for your mates.
"The last thing we need now is tragedies on our roads with drink driving. Please look out for your mates and make smart decisions about your driving.
"We have got enough issues to deal with currently without adding to them,'' Mr Hoyle said.
Six recovery assistance centres opened this morning in the hardest hit areas of the city, offering a range of services and information for people who need help.
The "one-stop shops" would provide face-to-face services and information from agencies like Work and Income, Housing New Zealand, Christchurch City Council, Red Cross and Salvation Army.
More non-government organisations would join these agencies over the coming days to ensure a wide range of services are available.
Prime Minister John Key yesterday had a first-hand look at the quake-ravaged eastern suburbs where many still lack basic utilities such as power and running water.
He talked to locals in the suburb of Bexley who expressed frustration at their plight.
The cordon blocking off central Christchurch after last week's destructive earthquake will be reduced tomorrow.
Civil Defence head John Hamilton said four green zones had been established at the edge of the cordon area and two of those would be open to the public at 2pm on Sunday.
Residents and business owners would be able to access the cordons from 8am to secure their properties, he said.
- NZ Herald staff, NZPA